Last updated on June 20th, 2022 at 10:10 am
Decades back very few would have foreseen that video editing could be undertaken through a computer.
When it became possible computer video became possible, hard disk speed was emphasized.
Back in the day, the recommended speed was 7200rpm over 5400 rpm.
These days, 7200rpm vs 5400rpm is no longer an issue.
It is the debate between hard disk drives (HDD) and solid-state drives (SSD).
In this age of 4K and 8K video editing, hard disk speed is of paramount importance.
As such faster hard drives with ample storage are needed if professionals are to stay at the top of the video editing game.
Types of Computer Storage Drives
As you may have already known there are 2 types of computer storage drives – hard disk drives and solid-state drives.
What are the differences between the two? Which should you pick for your video editing needs?
Let's look at their strengths and weaknesses to help you decide which to pick for your video editing needs.
When comparing these two drives, we want to look at speed, cost, storage space, and reliability.
HDD vs SSD: How Do They Work
HDD
Hard disk drives keep data on magnetic platters. These platters spin when the hard drive is turned on.
There's a read and write head that looks similar to a turntable (record player) needle.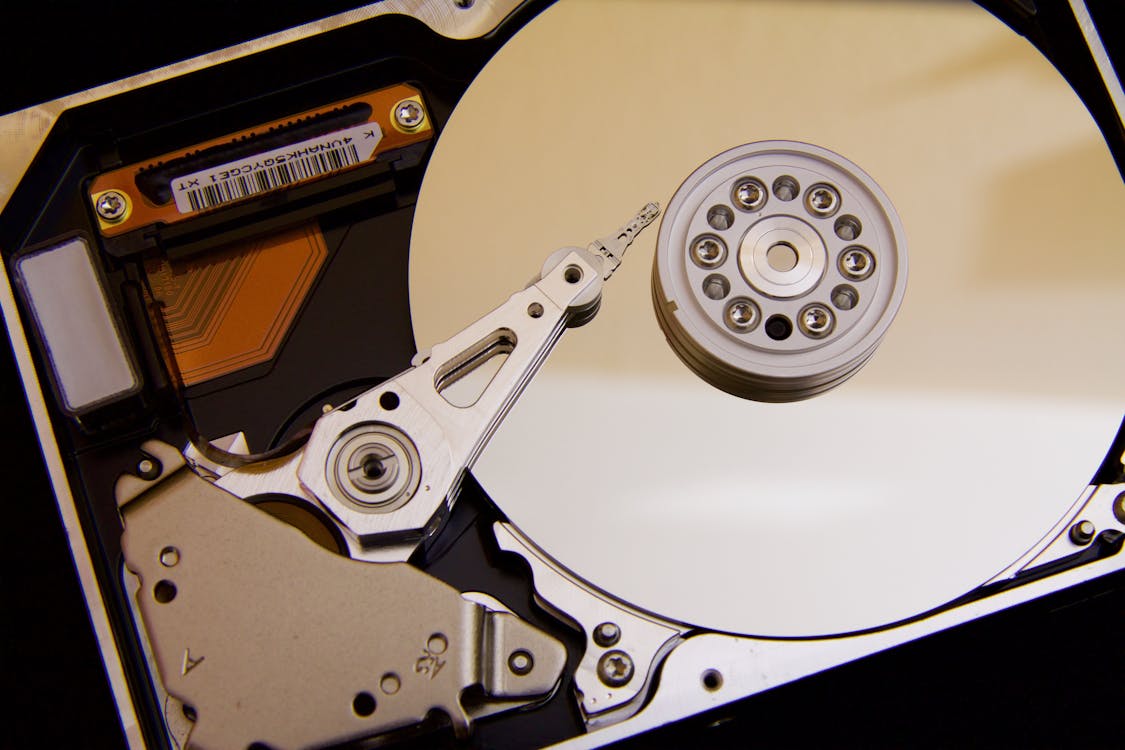 This is the needle that reads and records data from and to the platters.
The speed of operation depends on the make-up of the mechanical parts of the hard disk drive.
In short, an HDD is made of platters, a spindle, a read/write head, an actuator arm, an actuator axis, and an actuator.
If any of these moving parts fail, then your hard disk drive will be rendered unusable.
SSD
Solid-state means the absence of moving parts. When an SSD is opened up, you'll see what looks like a circuit board.
So, how does data get stored? Your files get stored on small stacks of memory cells. Much the same way data is stored on a pen drive.
The only thing is an SSD works much faster than a USB drive and the storage mechanism is of much higher quality.
Now that we're how the two types of computer storage drive work, let's now look at the advantages and disadvantages of an SSD as compared to an HDD.
Advantages of SSDs
Speed
When it comes to video editing, the speed of data reading and writing is crucial.
In this sense, SSDs beat HDDs hands down.
Generally, a standard HDD manages a data transfer speed of from 80 to 160MB/s. SSDs on the other hand can go up to around 500 MB/s, for reading and writing speeds.
SSD gives boot up and shut down time a huge boost.
If you're a professional video editor, time is money. The faster you can edit your projects, the more money you can make.
Speed is essential when it comes to importing and loading audio and video clips on your video editor timeline. The same applies when you're playing back your assembled clips and most importantly when you're rendering your projects.
So, an SSD is your automatic choice, especially for an internal hard disk.
Lifespan
SSDs also last longer than HDDs. SSDs have no moving parts. So, there are no wear and tear issues.
An HDD drive has a life expectancy of from 5 to 10 years. A well-maintained SSD can work for more than 10 years.
Durability
SSDs are more durable than HDDs. If your HDD takes a knock, it may easily malfunction.
Apart from knocks and vibration, SSDs cope well with excessive temperatures and magnetic field interference much better than HDDs.
Cost
Budget is always a consideration when it comes to purchasing new hardware. When it comes to cost, SSDs do tend to be more expensive per terabyte. The average 1TB HDD runs around $50 while a 1TB SSD will cost you closer to $100.
The cost difference is more pronounced when it comes to higher capacity drives. For example, the Western Digital 4TB WD Black Performance Internal Hard Drive HDD -7200 RPM cost $155 at the time of writing.
On the other hand, the Samsung 860 PRO 4TB 2.5 Inch SATA III Internal SSD cost $700.
If you are trying to maximize your storage capacity and HDD speed is acceptable for your needs, a traditional hard disk will be your best option.
Should I Choose an SSD or HDD for Video Editing?
In short, you may need both.
Choose SSD for video editing, as you would need a fast drive. SSD gives you a faster boot-up time for your programs.
Once you've completed your projects, you would need to archive your files. It's a bad idea to keep your files on your main drive.
As your storage space fills up, your computer will run slower.
So, transferring your files to an external hard drive is a good idea.
Here, you're thinking of a drive supporting a larger storage space. You would also think of the cost.
An external hard disk would satisfy you on both of these fronts. But then if budget permits you may want to opt for an external SSD for video editing.
The Best Deals on SSD
Internal SSD
SAMSUNG 870 EVO 2.5 inch SSD
The data transfer speed on this SATA 3 internal SSD is around 560 MB/s.
It makes it ideal if you edit up to 8K video.
This Samsung SSD is compatible with most motherboards which supports the 2.5-inch SATA form factor.
The Samsung Magician Software program is thrown in to help you manage and monitor your drive for optimum performance.
Check out the video below to get a better idea of this internal SSD.
Check out the SAMSUNG 870 EVO SSD.
Western Digital 1TB WD Blue 3D NAND Internal PC SSD
Western Digital is a well-known name when it comes to data storage solutions.
This 1TB internal SSD will help you cope if you're importing huge video files into your video editor.
It works with Windows and Mac systems.
Western Digital claims this version of its SSD consumes 25% less power than previous versions.
Check out this Western Digital 3D NAND SSD which also has a 4TB version.
HP S650 960GB SSD
This SSD employs the 3D NAND flash memory technology. It supports LDPC ECC error correction and intelligent SLC cache.
Read speed can hit 560 MB/s and write speed 500 MB/s.
A 3-year limited warranty is included with the product.
This SSD is ideal if you want to replace an older HDD on your computer to boost video editing performance.
Check out the HP S650 960GB SSD
External SSD
As mentioned earlier, you could do with an HDD when it comes to archiving your video files.
But if you need speed and often transfer or copy files, then an external SSD would save you time.
WD 2TB Elements SE External SSD
This external SSD scores high marks on portability.
Small enough to fit into your pocket, it is an ideal SSD for video editing on the go.
A notable feature is the drop resistance of up to 2 meters. This makes it suitable for outdoor use.
Read speed touches a maximum of 400MB/s.
The SSD comes formatted in the exFat mode. You may have to format it to NTFS or HFS to suit your requirements.
Check out the WD 2TB Elements SE External SSD.
SAMSUNG T7 Portable 2TB SSD
If you have a USB 3.2 Gen 2 device, then you can enjoy a read speed of up to 1050 MB/s and a write speed of up to 1000 MB/s.
This portable SSD works with Windows 7 or higher Mac OS X 10.10 or higher and Android Lollipop or higher.
For you to achieve these speeds, you're advised to use official Samsung USB cables.
Check out the SAMSUNG T7 Portable 2TB SSD for video editing.
Kingston XS2000 1TB Portable SSD
Kingston claims that this SSD can clock read/write speeds of up to a whopping 2000 MB/s. With USB 3.2-enabled devices, of course.
This makes it a suitable SSD for video editing, especially for the transfer of 8K files.
It comes with a rubber sleeve designed to protect the drive from water, dust, and knocks.
This pocket-size SSD works with Windows 10, 8.1, Mac OS (v.10.14.x +), Linux (v. 2.6.x +) and Chrome OS.
Check out the Kingston XS2000 1TB Portable SSD.
Hopefully, the above ideas help you choose a suitable SSD for video editing.
References