Updated 18.4.2021
In these days of HD and Blu-ray video, thinking about DVDs may seem a little odd.
But then you may have lived in the DVD heyday and amassed a huge collection of discs. If so, you can't get rid of DVD from your life entirely.
Of course, you can always replace your favourite DVD movies with Blu-rays. You can also sign up for a movie streaming service, That would allow you to binge-watch all your favourite flicks.
But Blu-rays and streaming services are not the complete answer.
What if you had converted your 8mm video or mini-DV or VHS tapes to DVD to preserve precious family memories?
You may want to convert them to a digital format which you can play back over your mobile devices, HDTV, TV box and on computers without DVD drives. Especially if you don't have a functional DVD player and don't intend to replace it with a Blu-ray player.
Escape DVD Rot
Also you may fear that your discs may suffer DVD rot and become unplayable. So, before that happens you want to digitize your home video DVDs.
You want to store these priceless videos in your hard disk, upload them to cloud or share them with you close ones through your private YouTube channel. Especially with those who don't have DVD players.
The way to go would be to rip your DVDs. And you'll do it with a DVD ripper software.
Difference Between DVD Copying and Ripping
Many are confused when it comes to DVD copying and DVD ripping. They use the tems interchangeably. They both mean different things.
DVD copying is making another copy of a DVD. This is what is called disc-to- disc copying.
Say you've a master DVD. You want another copy it to play in a DVD player. You'll make another copy with a blank disc with a DVD copying software.
DVD ripping doesn't require you to have another blank disc. You just extract the video file into a digital format of your choice. You can play this file back without a DVD player across many digital devices.
Is there a Completely Free DVD Ripper with No Limitations or Watermark?
Yes, there are many freeware DVD rippers available out there. So, you don't want to run out and buy a DVD ripper software program.
In most instances when you hear the word FREE, the first thought that comes to mind is there must be some strings attached.
This is true when it comes to free software. Many software programs call themselves free. Free, more often than not, means they're offering you a free trial. You can use the software but with limitations. Alternatively, you can use the full version free but your videos will be left with watermarks.
In the case of DVD rippers, there could be time limitation. You're allowed to rip a DVD for not more than, say 30 minutes.
We want to steer clear of these programs. We want to focus on the best free DVD rippers with no limitations or watermark.
Legality of DVD Ripping
This guide is meant to assist you with ripping your the videos you created and converted to DVD. In other words, home movies, wedding or travel videos.
In no way does it encourage the ripping of copyright-protected commercial movies.
Some argue that it's no harm ripping them for personal use. Well, the jury is still out on that. You make the decision.
Before You Start : Get Ready a DVD Drive
If you're new to the game of DVD ripping, be informed that you would need a DVD drive attached to your computer before you can use a DVD ripper.
Very few newer computers come with DVD drives or DVD-ROMs. So, if your computer doesn't come with a DVD drive, it's not the end of the road.
You can purchase an affordable external DVD drive and attach it to your computer through a USB port.
Here are some ideas for the Best External DVD Drives.
You now have a DVD drive ready. Let's check out the best best free DVD rippers with no limitations or watermark.
Handbrake Free DVD Ripper
Handbrake is well-known as the swiss army knife of video converter. It is a seasoned player in the video freeware world, having been around for more than 10 years.
Handbrake is also among the best free DVD rippers with no limitations or watermark .
The drawback is it doesn't work with copy-protected DVDs. There's a workaround though if you want to rip commerical DVDs for your personal use.
Handbrake may put off beginners. There's a learning curve to contend with. Not a steep one though.
Don't be intimidated by the setting boxes you see on the interface.
Check out the video below.
Handbrake comes with a wide range of output formats including mobile video formats.
MP4 with the H.264 codec is supported, if you're looking for a universal video format.
DVDFab DVD Ripper
The DVDFab suite is a premium software package. What's good about it? The DVD and Blu-ray ripper module is offered free of charge.
The software interface has a spacious, friendly inviting module.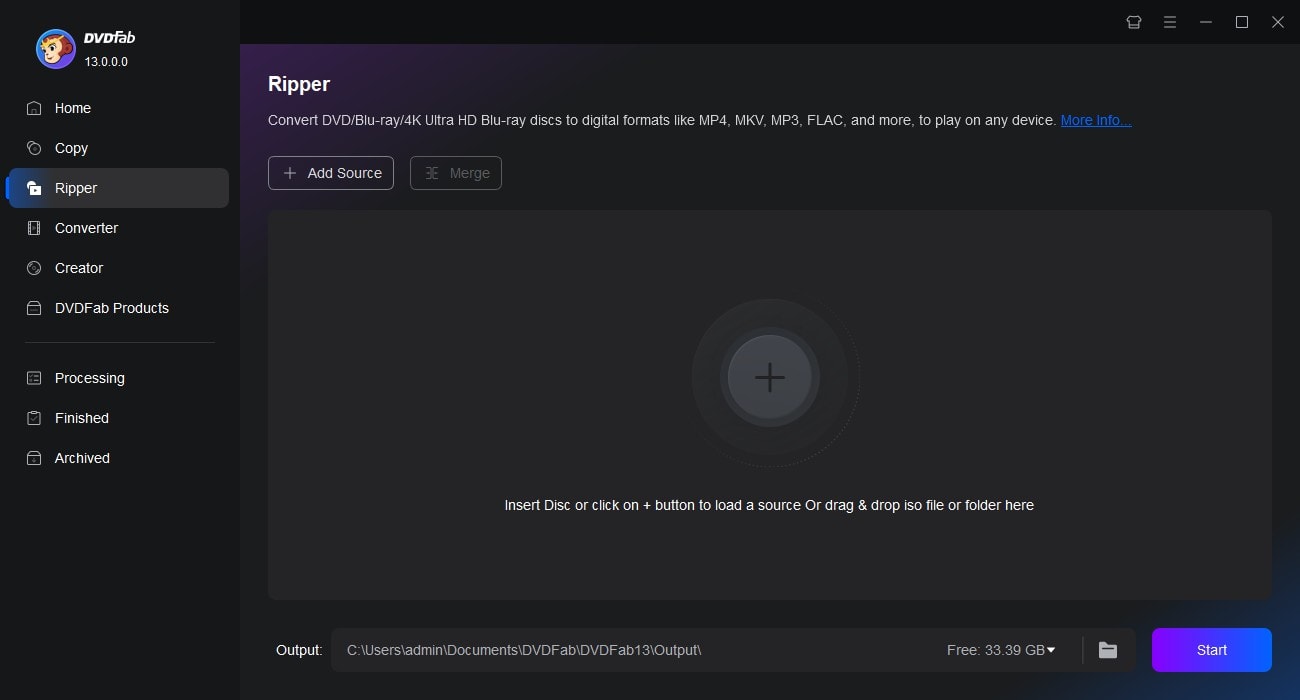 If you've backed up your DVD as an ISO file, you can drag and drop the file into the middle of the interface and go on from there.
As you can see from the screenshot below, DVDFab DVD Ripper, supports a wide range of output formats.
You would want to choose MP4 or MKV if you want to play back your ripped video over a wide range of devices.
Check out DVDFab free DVD ripper.
Freemake DVD Ripper
Would you be playing your ripped DVD video over a wide range of devices? Yes? Then you would need choice in terms of output formats.
Freemake DVD ripper is ready to offer you that. Just take a look at the options available.
What's the other good thing about Freemake? You can customize your video before proceeding with ripping your DVD.
You can even remove unwanted part of the DVD if you so wish.
You can rip with subtitles. Or you can remove them or add your own subtitles, among others.
You don't have to worry about how to use the Freemake DVD ripper. There's a detailed tutorial explaining the steps, complete with screenshots.
A video guide is also included.
This is one of the best free DVD rippers with no limitations or watermark. You should install without hesitation.
Check out Freemake DVD Ripper download and tutorial page.
MakeMKV Easy DVD Ripper
Do you have a huge collection of movies to back up? Do you want to do it without paying for a DVD ripper?
If so, choose MakeMKV, a DVD and Blu-ray ripper with no limitations or watermark.
This is one of the easiest free DVD rippers to use.
As its name suggests, your DVDs will be ripped to the MKV format.
Many software media players and TV boxes support the playback of the MKV format.
Check out MakeMKV.
It works with Windows, Mac and Linux.
Also, check out the video below to get an idea of how to use MakeMKV.