Are you exploring the idea of creating screencast tutorials for an eLearning program?
Do you wish to record a PowerPoint presentation to share with a wider audience?
Do you want to make a quick screen recording to capture an error on your computer or a problem with a piece of software to serve as evidence for troubleshooting help?
If you wish to do all of the above, you would need a screen recording software program.
Yes, there are top-notch screen recording software programs out there. They come with all the coveted (but not really needed) bells and whistles. It would require you to break the bank to get hold of them.
But then you may not really need these premium grade screen recording software programs for the task at hand.
It would be wiser to explore some free screen recording software programs to get your feet wet and familiarise yourself with screen recording.
That said, here are the best free screen recording software programs for Windows that can deliver the goods.
Xbox Game Bar
If you don't fancy installing software on your computer, then Xbox Game Bar will suit you fine.
This app is meant to record games. However, you can use it to record screen activity as well.
It comes preinstalled in Windows 10, hidden from view. All you have to do is type Xbox Game Bar in your windows search box and it pops up, ready to be used.
Click on the App icon to open it.
Alternatively, you can hit the Windows and G keys together on your keyboard to launch the App.
Once the app is launched, you'll see the following.
If you don't see the video recording button enabled, then try the fixes as shown in the video below.
Be reminded that you can't record Windows desktop and File Explorer windows. Still, if you need to capture the occasional quick screen recording, Xbox Game Bar will do the job well for you.
Free Cam
Free Cam is one of the best free screen recording software with no watermark or time limits. With it, you can make screen recordings and directly upload them to YouTube.
You can record with a mic for voiceovers and even capture system sounds. You can also highlight your cursor as it moves around the screen.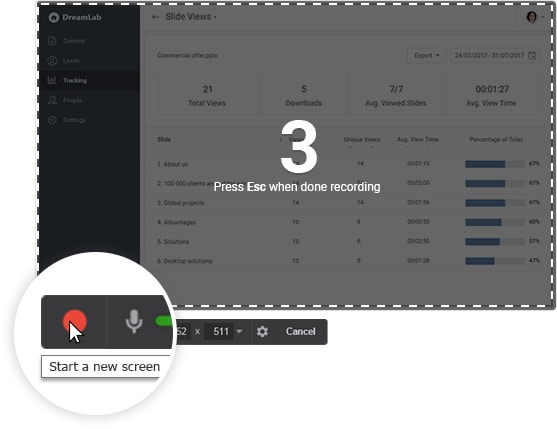 There's a simple built-in video editor that helps you trim clips. You can also remove background noise from your recordings and adjust volume levels before exporting your video.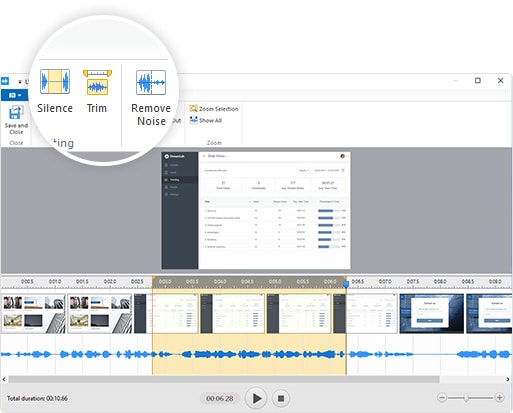 The drawback of Free Cam is it exports video in the WMV format. You can't also add background music.
Also, note that it captures video in 760p. If you want MP4 and 1080p, you'll have to sign up for the Pro version.
But WMV and 760p should be sufficient for YouTube.
Watch the video below to get an idea of how Free Cam works.
Check out Free Cam.
Ezvid
Do you wish to make screen recordings and upload them directly to YouTube? If so, Ezvid will work for you.
Released in early 2011, Ezvid boasts more than 3 million downloads. It claims that millions of screen recordings on YouTube have been made with Ezvid.
Ezvid comes with such features as voice recording, screen drawing and facecam (webcam capturing you talking).
If you don't feel comfortable recording your voice, then there's a text-to-speech module to assist you.
Ezvid's ease of use has made it popular among gamers and movie buffs who need to make quick screen recordings.
Other features you can enjoy with one of the best free screen recording software with no watermark or time limits are:
Video speed control (speed up your video)
Video editor
Quick slideshow maker with automatic pan and zoom applied to your images
Free music for your recordings
Placing watermark on your video before uploading to YouTube
Sharing to social media sites after YouTube upload
Ezvid works with Windows XP (SP3), Windows Vista, Windows 7, Windows 8/8.1, and Windows 10. Video output resolution is in 720p.
Check out the video below to see how this screen recording program works.
Download Ezvid.
OBS Studio
OBS or Open Broadcaster Software is an open-source screen recording software with no watermark or time limits.
It rivals most premium software programs of its type. Even industry professionals swear by the effectiveness of this video recording and live streaming software.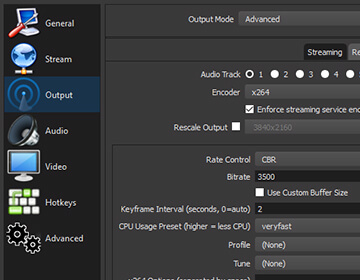 The software works not only with Windows but runs on Mac and Linux, too.
But take note that there's a learning curve involved here. If you're willing to spend time and energy learning this software program, then it will pay off especially if you'll be doing live streaming as well.
Sponsored by YouTube, Facebook, and Twitch, this program may not impress those who want to make a quick recording. The interface and the many setting options would surely intimidate the beginner.
Take a look at this video to see how OBS works.
Check out OBS Studio if you're willing to take up the challenge of learning live streaming apart from screen recording.
With ShareX you can easily customize your screen capture (full screen or selected region).
A standout feature is making a screen capture which is automatically converted to a GIF.
You will like that ShareX processes a screen recording fast after you've hit the Stop button.
You can assign ShareX automated tasks after the capture is done. For example, you can instruct it to copy an image to clipboard or print it.
The strength of this free screen recording software with no watermark or time limits is its high-quality recordings with small file sizes.
This makes it easy to upload to various platforms even when you're on a slow Internet connection.
But then many may not fancy its cluttered interface. Sometimes the recording button may disappear.
Audio recording is not turned on by default. You would have to enable it each time before you make a recording.
There is also the occasional bug in the software where the recording button disappears.
Watch this video to get an idea of how this software works.
Despite these minor hiccups, ShareX is worth giving a try.
TinyTake
TinyTake's free version has a time limit for screen recording. You're only allowed 5 minutes of recording. Still, we've included it in the list should you want to make short screen recordings for personal use.
Apart from capturing screen activity, TinyTake also makes webcam recordings and allows you to annotate your screen recordings where necessary.
You're also given 2GB of online storage space to save your recordings.
If you want to record beyond that per session, you would have to sign up for the paid packages. The premium version can go up to 120 minutes per recording.
Apart from the recording duration and online storage space, there isn't a difference between the free package and the paid ones.
You can directly upload to YouTube from TinyTake.
Check out this video to get a better understanding of this free screen recording software for YouTube videos.
Download TinyTake.
Flashback Express
This screen recording software comes in 2 versions. Flashback Express is the free version. It works very much like the Pro version with some bells and whistles missing.
Like the Pro version, Flashback Express can record the screen and sounds and capture webcam video. You have the option of whether to show your webcam capture on your screen or not. You can also add audio commentary.
There are no time limits for recording and no watermarks will be placed on your screen recording projects.
With Flashback Express you don't have access to a video editor. That shouldn't be a problem because you can always get hold of a free video editor program if you don't already have one.
With the free version, you can't also add text, images, or sounds or use video effects.
Your work can also be saved in the MP4, AVI, and WMV formats. This shouldn't also be a problem when you directly export your work to YouTube through Flashback Express.
Check out the video below to see how Flashback Express works.
Download Flashback Express.
You've learned about the top free screen and audio recording software for Windows with no watermark and time limit. Now choose the one that fits your requirements and get started with your screen recording.