Drones today aren't limited to filmmaking, where you need to get an aerial shot of a haunted house to give a spooky mood or an aerial shot of cityscape to give your film a sense of place.
Today they're used by wedding photographers and videographers, not to mention travel bloggers. Jumping into the fray are marketers and others whose businesses have nothing to do with photography or videography.
Real estate agents have begun to use drones to capture video footage of properties to add context and enhance their uniqueness. A property may not seem appealing when viewed from the ground level, but an aerial view may change the mind of a potential buyer.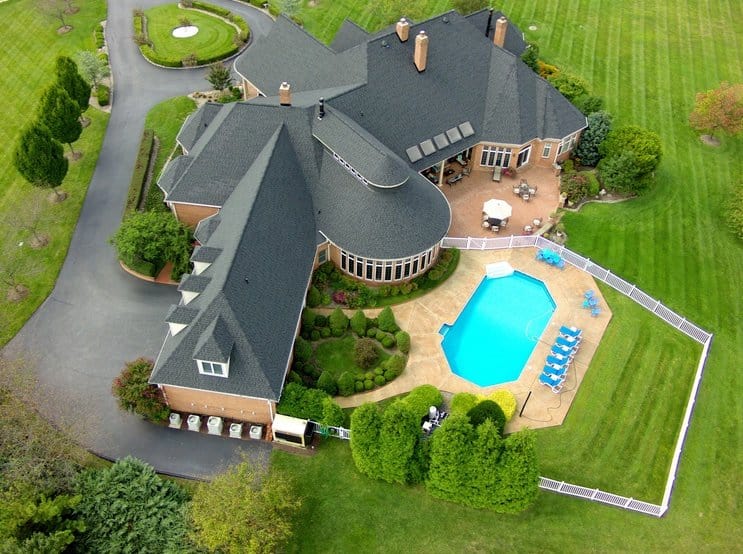 Similarly, farmers have started using drones to monitor their crops and detect warning signs without any physical movement on their part. This is especially useful in bad weather conditions when they don't have access to their crops.
Finally, if you're running a photography or videography business, you can give it an edge by including drone shots.
Whether you want to explore the possibility of using drones for business or fun, it pays to learn the important aspects of drones so that you can make a wise buying decision.
If you're new to the drone game these are the questions that may be running in your head.
Drone Beginner FAQ
What is a Drone?
You may already know what a drone is. Otherwise, you won't be reading this, would you? Anyway, let's enhance your understanding a little.
A drone falls under the category of UAV (Unmanned Aerial Vehicle)
. Before it was available to consumers, drones in the form of aircraft were employed by the military. That doesn't mean, these days, consumers can compete with the military when it comes to drone technology. Military drones are far more advanced than those available to consumers. Military drones can do far more than capture videos or photos.
How Difficult is it To Learn to Fly a Drone?
Flying a drone may seem to need a special skill set. Well, anything can be learned if you put your mind to it. Flying a drone is not rocket science.
The question is how do you easily get started flying a drone? A major concern of beginners is they may not be able to control the drones when they take off and may crash somewhere.
To easily learn how to fly a drone, it's good to start with a top-end model. Why? These models come equipped with automatic take-off and landing features. This can be done with nothing more than a click of a button or swiping across your smartphone.
And if you're worried about your drone crashing into a building or somewhere unwanted, when you don't know where it is heading, all you have to do is release the controls. The drone will just hover where it is without moving in any particular direction,
It gives you enough thinking time before you take the controls again,
These top-end drones will allow you to set waypoints. With a waypoint set, the drone will make use of GPS to stick to the waypoint without you having to manually control it.
What if you don't have the budget to buy a top-end drone? Well, the cheaper ones work alright, but they're more challenging to fly, owing to the absence of certain automated features.
Maybe with a cheaper one, you ought to practice flying it over an open field with no buildings around to hone your skills first. It can be done. Patience and dexterity is called for.
It's like driving a car on manual gear versus an automatic one. The former needs practice. Get the idea?
Do You Need to Register to Operate a Drone?
If your drone weighs less than 0.55lbs (0.25kg), then you would not have to register with the FAA (Federal Aviation Administration).
If it's between 0.55lbs and 55lbs, you would need to register with FAA. Even if you'll be flying it over your own property.
You would need to pay a registration fee of $5 which will allow you to use your drone for 3 years.
The whole idea of the registration is in the public interest, to monitor irresponsible flying.
Even if you're exempted from registration, you've to follow other FAA rules. Among them are:
You can't fly your drone near manned aircraft
You must only fly your drone below 400 feet.
You must not let your drone fly out of sight.
You can't fly a drone within 5 miles of an airport.
You're not allowed to fly your drone over stadiums or places where are events are taking place.
You're not allowed to fly your drone over people or crowds of people.
You must not operate your drone in a reckless manner or in a way that endangers the safety of others
Do You Need Some Sort of a Pilot's License to Legally Fly a Drone?
The good news is no. An FAA registration is sufficient as stated above. However, you would need a pilot's license if you'll be doing it for commercial purposes.
What if Your Drone Flies Beyond Your Transmitter Range?
You don't have to worry about this happening. Most of the drones have a 'safety' feature which would make the drone automatically land or return to where the controller is (where you're at the time of operating the drone).
What Happens if My Drone Runs Out of Battery Power While Flying?
Don't worry, most of the drone models come with safety features. When battery power starts running down, the drone will return home (its takeoff point) and make a safe landing.
This applies also if your control signal transmitted to the drone is interrupted or weakens.
What Additional Equipment Do I Need that Doesn't Come with the Drone Set
You would need a smartphone or a tablet with a Wifi connection. You'll install a drone app that will assist you with its operation.
Getting Started Choosing a Drone
Drone flying can turn out to be an expensive hobby, but then it doesn't have to burn a hole in your pocket.
With the right knowledge, you can buy an affordable drone that produces good video quality.
Starting off with an affordable drone is a wise move. You ought to learn the nuts and bolts of drone flying before investing in a top-end model. You don't want to lose an expensive model in the sea or forest, do you?
Best Drones for Beginners : Top Picks
DJI Mini 2 – Ultralight and Foldable Drone Quadcopter
This is one of the best DJI drones for beginners.
The first thing to note is this drone weighs 249 grams. That's means you don't have to register with the FAA before using it.
Learn more about this
What image/video quality does this drone offer?
Still images are captured at 12MP. Video quality can go up to 4K/30fps.
What's the video transmission distance of the drone?
It can go up to 10 kilometers at 720p.
How long can the battery power last?
The Lithium Polymer battery life can last up to a maximum of 31 minutes on a single charge.
What about wind resistance?
It can cope with Level 5 winds.
What mobile devices does the DJI 2 work with?
You must have a tablet or smartphone running iOS 10 or Android 6.0 and above.
What is the maximum altitude it can take off at?
It can take off at an altitude of up to 4000 meters. This would be ideal if you're trying to shoot a coastline from atop a cliff or hill.
What's the zoom capability of the drone?
It can handle up to 4x digital zoom. This will allow you to capture subjects of interest without flying too close to them.
The drone app allows you to share 'quick shots' through social media. It also comes with a return-home feature (GPS-powered).
If you've used a camera before, you would be comfortable handling the videography aspect of the drone.
Check out the DJI Mini 2 – Ultralight and Foldable Drone Quadcopter.
Also take a look at DJI Mavic Mini, an older and cheaper version.
Parrot Anafi FPV Drone Set
If you don't mind registering your drone with FAA, for the sake of enjoying a flying experience, consider the 310g-Parrot Anafi FPV (First-Person View) Drone Set.
The FPV mode put's you in the pilot's seat instead of just looking up at the drone in the sky from the ground level.
To allow you to enjoy this experience, the drone set comes with cockpit glasses 3.
It supports 4K HDR resolution at 30 fps with 3x zoom capability. Still image resolution goes up to 21MP.
Battery life, however, is limited to 25 minutes and it can be operated at a maximum speed of 55kph or 35mph.
What sets this drone apart from the DJI models is the camera's ability to tilt up and down. It makes it popular with surveyors who want to view landscapes from different angles. But it would be useful to photographers and videographers who want to impress with unique shots.
The maximum transmission distance supported is four kilometers from the foldable remote control. It can operate up to 4500 meters above sea level.
Check out the Parrot Anafi FPV Drone Set.
Ryze Tech Tello – Mini Drone Quadcopter
If you're seriously on a budget and want to learn the ropes of drone flying, opt for the Ryze Tello.
This drone model will also fit the bill If you're trying to affordably get your kid into drone flying.
It weighs a mere 80g (no FAA registration required) and is powered by DJI technology.
Video resolution is limited to 720p at 30fps. Images are captured at 5MP resolution.
Battery power can last up to 13 minutes. The maximum speed is 36kph or 17.9mph.
There's no in-camera recording for this drone. It transmits video back to your smartphone from which you can manipulate it.
The drone is also equipped with 2 antennas to make video transmission stable.
Check out Ryze Tech Tello – Mini Drone Quadcopter.